Hey everyone: now that DVDs are a go, we obviously no longer have to fight for them -- we won! We're dropping the network campaign as well, as the producers are no longer approaching networks about taking the show. So now, the best thing you can do to help
Wonderfalls
is buy a DVD set (or two, or more!) and show everyone you know how great those 13 episodes are. We'll continue to update the lion page with all the latest info about the DVDs, cast and crew, and future campaigns (the idea of a movie is being batted about, and if there's anything you can do to help make that a reality, we'll let you know). Thanks so much to everyone who sent a postcard, called, faxed or e-mailed in an attempt to save this show -- there were more of you than you know, and you did make a difference.
(If anyone was wondering, we're leaving this page up for posterity and so any future fan campaigns that might need the info can find it. Obviously, the page is no longer being updated, so some of the information may be out of date.)
We're trying to do two things with this campaign: one, get all 13 episodes of Wonderfalls on DVD, and two, help its producers show other networks it would be worth their while to pick up the show. Both things are important, so please don't choose between them -- fight for both. We have to let everyone know there is a fanbase for the show out there. And remember, signing an online petition or sending an e-mail is not nearly enough. If we want to get people's attention, we have to call, fax, or send a postcard or letter to them -- we have to do things that are hard to ignore.
Note: Now you can send postcards online through USPS, even if you're not American. It's simple -- just register, upload the design you want on the postcard (use one of ours, if you like), add whatever text you want, and then USPS will mail it for you (for a low price, too). This is a great resource and we urge you to check it out.
DVD Campaign
Network Campaign
Other things you can do (online voting, petitions, talk show campaigns)
Postcards and Sample Letters
DVD Campaign

E-mail:

Foxstore.com has an address: [email protected]
E-mail them to request Wonderfalls on DVD.

You can also e-mail [email protected] to tell them you're upset about the cancellation. Give them your age and location as well.

Fax:

Mr. Gary Newman and Ms. Dana Walden (co-presidents of 20th Century Fox)
Fax to 310-369-8726

Regency Enterprises
Fax to 310-969-0470

Snail Mail:

Send a letter or postcard to:

Mr. Peter Staddon
Senior Vice President, Marketing
Twentieth Century Fox Home Entertainment, Inc.
PO Box 900
Beverly Hills, CA 90213-0900

AND

Mr. Gary Newman and Ms. Dana Walden
Twentieth Century Fox Television
10201 West Pico Blvd
Building 88, Room 29
Los Angeles, CA 90035

AND

Regency Enterprises
10201 W Pico Blvd Bldg 12
Los Angeles, CA 90035

If you like, you can also contact Gail Berman, head of the FOX network. She doesn't have a say in whether or not DVDs are released, but you can tell her you're dismayed by the show's cancellation and encourage her to give new shows a better chance.

Gail Berman
Fox Broadcasting
Building 100 Room 4450
10201 W. Pico Blvd.
Los Angeles, CA 90035
(Or phone 1-800-369-6848, option 2, then 237626#)

Phone:

If you choose to telephone anyone, please be polite. Leave your name, age, and location, and state that you're unhappy about Wonderfalls' cancellation and would love to see the show released on DVD. Keep it brief.

Mr. Gary Newman and Ms. Dana Walden
310-369-5962

Regency Enterprises
310-369-8300

Foxstore - call to request that Wonderfalls DVDs be created. You can leave a message with the receptionist. This is a very good thing to do; we've already heard reports that they're getting a lot of calls, so they're definitely noticing us! Keep calling, guys!
1-888-223-2FOX

Network Campaign

Please write to these networks (we have a sample letter here) and let them know you'd watch Wonderfalls if they picked it up.

The WB

Jordan Levin
CEO, Warner Bros. Network
4000 Warner Blvd., Building 34R
Burbank, CA 91522

Network website: TheWB.com
Feedback e-mail: [email protected]
Phone number: 818-977-5000

UPN

Dawn Ostroff
President, UPN
1800 Wilshire Blvd.
Los Angeles, CA 90025

Network website: UPN.com
Phone number: 310-575-7123

FX

Peter Liguori
President & CEO, FX
10000 Santa Monica Blvd., Rm 464
Los Angeles, CA 90067

Bravo

Bravo
c/o NBC Entertainment
3000 W. Alameda Avenue
Burbank, CA 90036
Website

USA Network

USA Network
1230 Avenue of the Americas
New York, NY 10020
(212) 413-5679
Website

Showtime

Showtime
1633 Broadway, 9th Floor
New York, NY 10019
(212) 708-7302
Website

Global (Canada)

Global Television Network
81 Barber Greene Road
Don Mills, Ontario, Canada
M3C 2A2
Telephone: (416) 446-5311 or, 1-800-387-8001 (toll free)
Fax: (416) 446-5449

SPACE (Canada)

Other

Get Ryan Seacrest to mention us and/or put someone from Wonderfalls on his show

Go to this page and scroll down to the "contact us" link (very bottom of the page). Let Seacrest know about SaveWonderfalls.com, and tell him to give us a shout out. Also tell him we'd love it if he'd put someone from Wonderfalls on On Air.

Vote for Wonderfalls at The Global Episode Opinion Survey

Head on over to Geos.tv, register, and then select the "new series showdown" link from your list of ballot forms in your members area. Vote for Wonderfalls and see if we can't get it to number one!

Vote for Wonderfalls on DVD:

Go to TV Shows on DVD. Register (it's easy and free) and vote for a full series release of Wonderfalls DVDs. But PLEASE NOTE: do not register for multiple accounts in order to vote more than once. Voting has already been suspended twice because people are doing this, and that harms our cause.

Post on a messageboard:

Peter Staddon, Fox's Senior VP of marketing, sometimes posts on this board: Home Theater Forum

A poster named Michael Sliger has started a thread there about Wonderfalls on DVD. Please register and post on it expressing your interest. PLEASE NOTE: This board has special rules for registration; it requires you to choose a username containing your real first name, and your membership must be approved before you can post. This forum is taken seriously, and executives DO read it, so please take the time to apply for membership -- and be polite and DO NOT SPAM.

Also, post that you'd like DVDs on the official Wonderfalls board

Sign the Wonderfalls petition:

Contact your local television critic:

If a critic in your area has reviewed Wonderfalls and liked it, write him or her and pass on a link to savewonderfalls.com. Most critics would be happy to help us get the show on DVD, and they can get our message out to a lot of people.

Postcards and sample letters

Here are some sample letters you can e-mail, fax or send through snail mail. If you like, insert your own information and use them, or write something similar on your own. It's best to keep it short and polite.

Letter for the DVD campaign:

Mr./Ms. ____,

I am a __-year-old [male/female] Wonderfalls fan from _____. I was dismayed to learn that this brilliant and engaging new show was cancelled after only four episodes. I believe it was the best new show of the year and wish it had been given a better chance to succeed. I know 13 episodes have been filmed, and am writing you to ask for a full series DVD release. If you release this DVD set, I will definitely purchase it -- I will even pre-order it from foxstore.com as soon as it's listed.

Also, please visit www.savewonderfalls.com if you'd like proof that this show does have a large, passionate fanbase.

Sincerely,

Your Name

Letter for the network campaign:

Mr./Ms. _____,

As I'm sure you're aware, FOX recently cancelled the brilliant and critically-acclaimed new show Wonderfalls after only four episodes, disappointing all of its loyal fans. I believe Wonderfalls wasn't given a chance to succeed on this reality show-centric network. Please consider airing the show on ____, where I think it would be a better fit and could grow into something wonderful. Its fans would certainly thank you.

Please visit www.savewonderfalls.com if you'd like proof that this show already has a large, passionate fanbase.

Sincerely,

Your Name

The Wonderfalls postcard!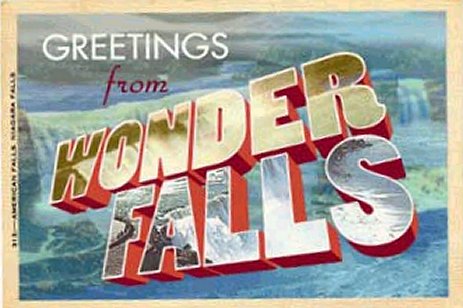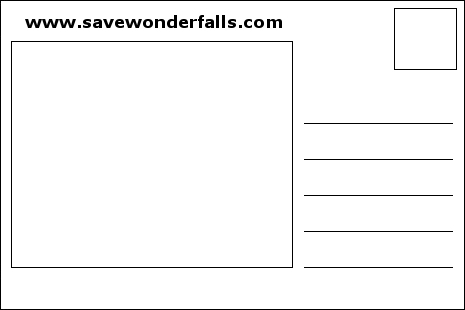 Postcard by Er0s:

Er0s has created a higher-quality version of the above postcard. There are two different files you can download depending on what you want to do with it. The first file is intended for use with the USPS online postcard service, and the second file is designed so you can take it to Kinkos or another print shop and have copies made. A text document with instructions is included within each .zip file.

Postcards by Tresca: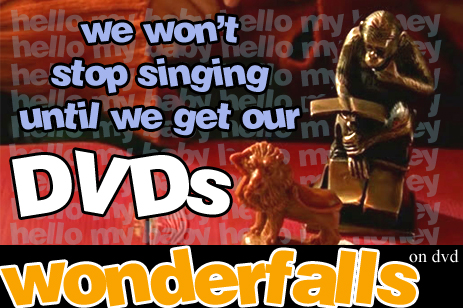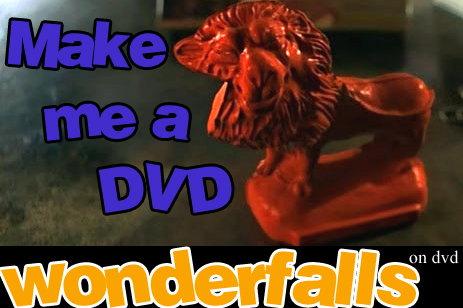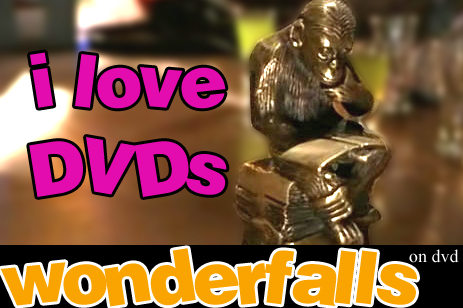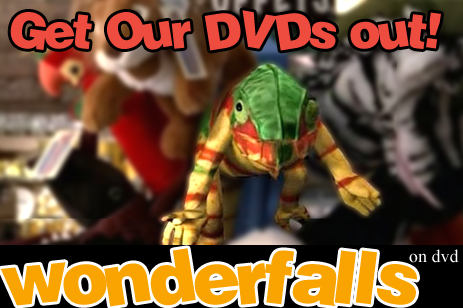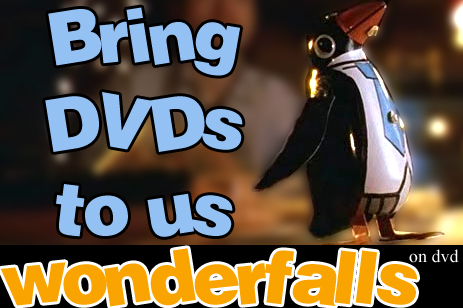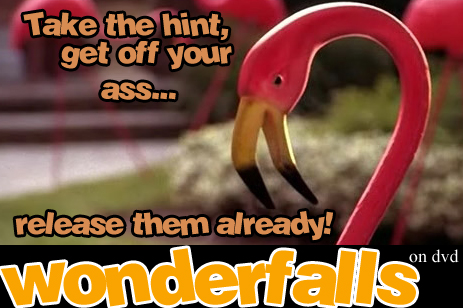 (Click here for even more postcards by Tresca!

)

If you have any more network contact info, ideas for the campaign, or suggestions, click on the cow creamer on the left to contact us or post in the campaign discussion section of the official forums!